The NLLC laser tattoo removal training course is an immersion into laser tattoo removal over 2 days – and the course material is focused on the safe, practical application of laser tattoo removal. We include plenty of discussion of laser physics, the history of tattoo removal, etc. but we present everything in a way that is designed to make it easy to learn and help you make money in your business.
The background of our instructors is running a successful and busy chain of laser tattoo removal clinics, and we'll teach you the lessons of those that have been there and done that. We provide a complete overview of the procedure, industry, technology, procedure pricing, regulations, insurance, marketing, and many other elements of the field. If there's a question you have about laser tattoo removal, we have the expertise to answer it.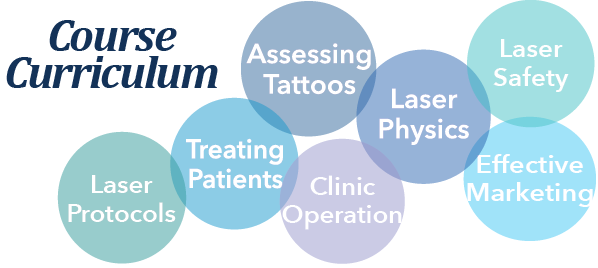 Over the years, our training clients have helped us refine and expand our 200+ slide presentation many times to incorporate everything that you want to know. In a lecture and discussion format, we'll review all the core knowledge you need to get started with laser tattoo removal.
Hands-On Laser Practice
To be a competent practitioner requires that you've put your hands on a machine. Tattoo removal lasers are actually quite simple to use, and we've trained clients of every possible background.
You'll experience:
Practice interacting with lasers (understanding the buttons, switches, and knobs of many lasers)
Practice firing the laser on paper to get used to the technique and feel for it
Firing the laser on skin if you want to see what it feels like (guaranteed to be much less than you would expect!)
Practice with dozens of model patients that we bring in to perform actual treatments under our supervision. We have many, many people that we do free treatments on, and they are glad to let our training clients practice on them. This includes brand-new tattoos, tattoos of all colors and locations, and tattoos that have had many treatments so you can see the results and ask questions to the patients.
Concepts Explored
The didactic portion of our course is interactive and engaging. We encourage all training clients to get involved in the discussion with any questions about tattoo removal training.
Here's an overview of the concepts we explore:
Tattoos
What motivates people to obtain tattoos, what tattoo ink is made of, how tattoos are categorized (professional, homemade, cosmetic, traumatic, medicinal), tattoo colors
How tattoos interact with skin and change over time, how tattooing can interfere with skin
Tattoo regret and motivations for removal, demographics of tattoos and tattoo removal patients, fading a tattoo versus removing a tattoo, how to discuss unwanted tattoos with a potential patient or client
Laser Physics
How lasers work – we can open the guts of a laser and show the inside and how each component works
Wavelengths needed for tattoo removal, Q-switched lasers versus other types of lasers, absorption versus reflectance, thermal relaxation time, etc.
How tattoo removal training lasers vary, active vs. passively Q-switched lasers, fluence & nominal pulse density, why some inks are resistant
Treating Patients
Key dermatology concepts involved in tattoo removal, laser-skin interaction, skin types and how to treat patients of color
What side effects patients will experience and how to manage them, before during and after pictures that show what patients will be experiencing
Recommended protocols that show how to use any Q-switched laser for tattoo removal training, no matter what manufacturer, answering patient questions about the treatment.
Business Operations & Marketing
Overview of different business models (in a medical practice, as an add-on procedure, as a stand-alone specialty clinic, within a tattoo shop, mobile clinic), pricing models.
Marketing and advertising – what works and what doesn't, how online marketing works, what your website should include, where to get referrals
Profitability, etc. – what revenue you can expect to make, what your costs will be, office space, medical director, paperwork, insurance.
Laser Safety Training
What makes lasers powerful and potentially dangerous, types of laser risks and injuries, review of regulations and safety standard on lasers and for clinical operations.
Laser safety best practices, how to select laser safety goggles, how to protect yourself and patients from laser exposure.
Hands-on safety instruction – your time using different types of lasers will give you the most valuable kind of safety instruction – practical, hands-on time with real systems.