Tattoo removal is a in-demand aesthetic procedure that continues to grow in popularity annually. As the only safe, non-invasive solution to unwanted ink, laser tattoo removal provides a valuable service to millions of people worldwide suffering from tattoo regret.
Large Potential Patient Pool
Once reserved for bikers and sailors, tattoos have become a mainstream accessory for people of all demographics. Americans spend $1.6 billion getting tattoos each year, and 20% of American adults have gone under the needle. For some demographics, the numbers are even more impressive – 40% of Americans aged 26 to 40 have at least one tattoo.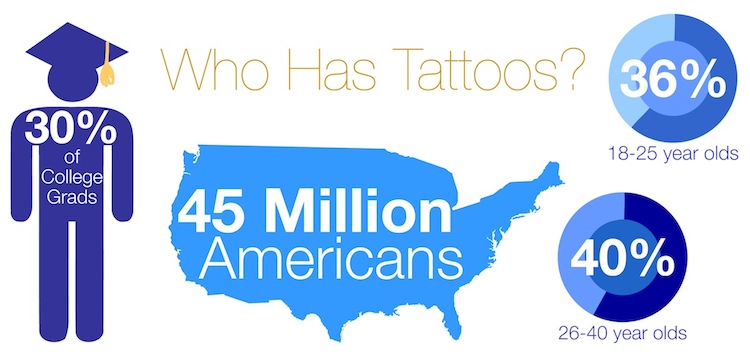 Tattoos have become widely accepted as a method of self expression, and they have become commonplace on celebrities and athletes. The rising popularity of tattoos has showed no sign of slowing, and each new person getting a new tattoo becomes a potential tattoo removal patient.
High Rates of Tattoo Regret
Reports for rates of tattoo regret vary, but the we've seen statistics that place the number between 17% and 50%. Considering that there are nearly 50 million tattooed Americans, there are millions of people looking for a solution to their unwanted ink.
Laser tattoo removal is the only effective, non-invasive, non-scarring solution to tattoo regret. Surgery, creams, and injectables do not provide patients with the skin result they want. Because laser tattoo removal is the only effective solution to the problem of tattoo regret, practitioners provide a valuable, in-demand service.
Attractive Patient Demographics
Tattoo removal patients are people compelled to remove their tattoos for aesthetic reasons. They are people concerned about their appearance and willing to spend significantly to achieve the look they desire.
Tattoo removal patients are concerned about their health and appearance, so they are excellent candidates for other aesthetic procedures – that's why many plastic surgeons, dermatologists, and medical spas are adding tattoo removal to service offerings.
Minimal Competition in Most Markets
Laser tattoo removal is an industry that is still in its infancy. The popularity of tattoo removal services is growing much like how hair removal boomed in popularity 15 or 20 years ago. Since modern tattoo removal technology consistently provides beautiful results and people are starting to realize its effectiveness, now is the ideal time to enter this growing field of aesthetics.
Most markets across the US have minimal or no competition in the laser tattoo removal segment. These territories are ready to be tapped by both physicians and entrepreneurs alike.
Even in the large, ahead-of-the-curve markets where patients are early adopters of new aesthetic treatments, tattoo removal is still growing in popularity, and there is plenty of space for multiple competing practices. For example, a city like Houston or Los Angeles is capable of sustaining many standalone specialty tattoo removal clinics, dozens of medical spas, and countless physicians offering laser tattoo removal.
At New Look Laser College, we will teach you the ways to effectively and affordably market to tattoo removal patients so that you can have your share of the growing tattoo removal field.